Two posts in one day is beyond unusual for me, but my new bloggy buddy over at
Art @ Home
hosts a link party every Tuesday and I decided it would be fun to join in. Maybe I'll get in gear and start posting my PL posts on Monday! I've actually been meaning to join this party for a while. I love the idea of listing the things that are currently making you happy and then keeping it in mind for the whole week.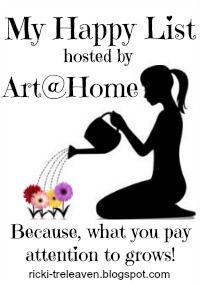 Last week I decided we needed to cut down on TV time. It's become insanely ridiculous; I know that it's having a negative effect on the boys, so I decided to change it. So our first step was to cut out TV watching before lunch. It's working well so far. The house becomes a bigger mess and it's certainly louder, but it's better. There are less fights and more imagination. I love it. I want to start doing a in home preschool type thing on days we don't have our Mommy and Me group, so that we are doing something constructive during our no-TV time. Need to do a little organizing and research, but I'm hopeful that this will be a wonderful thing to start.
Yesterday, Nox and I both had dentist appointments. It was Nox's first visit and he did really wonderfully. He giggled and laughed during the whole visit and charmed everyone in the office. He left with no cavities and all smiles. I'm so proud of him.
My appointment, terrified me. I HATE going to the dentist...I drove my husband nuts talking about how much I was NOT looking forward to it. I confess, it's been a while and this was a new dentist I was trying...so even more nerve racking. BUT, it was a really great experience. Everyone was really wonderful, my dentist even complimented my teeth, which was AWESOME. He also told me there was NO reason that I needed to take my wisdom teeth out. I seriously almost hugged him. Several dentists have told me that I need them out...because that's what you do right? But it's insanely expensive, even with insurance and I always thought it was silly to painfully remove something that was never bothering me in the first place.
I know, very few people want to read about my teeth, but seriously, I am bouncing off the walls happy.
Finally, the garbage men, make my happy list. Not because they remove our trash and recycling each week. (Although, I am certainly grateful for that!) It's because of the happiness it brings the boys, mostly, Nox. He squeals with joy every time he hears the trucks and begs to picked up and raced to the front door to watch. It's the highlight of each week. Munch is completely fascinated by the process. I just love that something so simple makes them so happy. It's such a great reminder to enjoy the simple things.