So a couple things:
I don't normally do two posts in a day...cause I seem to be lucky these days if I do two in a week...and FAF is back!
I planned to completely start over in January, but then I saw Angie was hosting FAF over on her blog
Health NOT to Health Nut
and I decided...ya know what...I'll start now.
I'll wait until next week to put in the numbers. Not that they'll change much, but I know Christmas is not going be good in the food department (correction, it will probably be awesome and wonderful...and my scale will really be the only one complaining). Anyway, for the sake of staying happy, I'm ignoring the scale till next Friday.
I started slacking at some point this summer...and while I've tried to get back on track several times, I have REALLY struggled with it. My eating habits have gotten terrible and up until recently my work outs were almost non-existant. It's been getting more and more depressing.
Then a couple weeks ago one of the girls that links up on
The Mom Creative
's Project Life Tuesday directed me to Elise over at
Enjoy It
. She decided to run a mile a day. Everyday, from Thanksgiving until New Years. She (and lots of others) document their progress on instagram. If you want to read more go
HERE
.

It was well past Thanksgiving and I KNEW I wasn't in the shape I needed to be to RUN a mile day, so, I decided to do it my own way. I hit restart on C25K. Some days I walk, others I run, somedays I go 1.5 miles, others 3.5. Here are my first nine days:
I traveled 19.32 miles in 9 days. My goal is to continue this until my birthday...actually it would be ideal to continue it for 2013...but little goals. My birthday is in March...so I figure I can do it.
I'm linking up with Angie.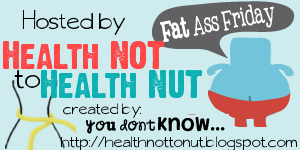 Come join us, or cheer us on!!
Have a happy and healthy week.