Linking up with Angie, go join in!!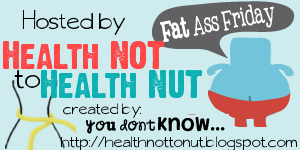 2013 Starting Weight: 165
Last Weigh In: 161
Current Weight: 160
Lost This Week: 1
Total Lost: 5
Progress is slow, but for the most part fairly steady, so that makes me super happy.
We did really well meal planning this week, which always helps.
Sunday...was completely a cheat day. We went to our favorite local Chinese Buffet (as requested by Munch) to celebrate the Chinese New Year.
Tuesday was Mardi Gras...which we don't generally celebrate...(even though I dream of going to New Orleans just to watch the festivities) BUT we decided to work it into our meal plan and made our own little twist on Jambalaya. Yep...with couscous of all things.
THIS
is the recipe we worked with.
It was AMAZING. Next time I want to add some shrimp.
Valentine's Day we decided on
Chicken and Asparagus pasta
. It seemed like maybe we used more pasta than was called for and we added a full chicken breast instead of half, plus some garlic and lemon juice.
We were a little worried because it looked like it was lacking in sauce, but it was wonderful. In fact we are having the left overs for dinner tonight!
Workouts also went really well this week. Saturday, I did a 3.81 mile run with the pup. Sunday, I decided to give my 30 day shred video a try again....my muscles HATED me. Monday, I took a rest day. Tuesday, I did a 2 mile Walk Away the Pounds. Wednesday. 30 day shred again and then yesterday I did the 3 mile walk. My muscles are feeling great.

2013 miles as of last week: 64.33
Miles logged this week: 8.81
Total Miles: 73.14
The weather should be good for a run this weekend. I really REALLY need to start up with my morning runs again. There is NO excuse for me not to. On the food front, John and I decided that for Lent we would give up fast food. Basically if it has a drive through or is pizza it's off limits.So far so good.
Have a Happy and Healthy Week!!