Linking up with Angie!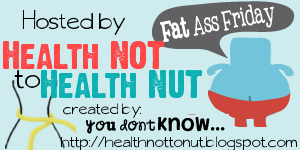 2013 Starting Weight: 165
Last Weigh In: 162
Current Weight: 162
Lost This Week: 0
Total Lost: 3

I did fairly well eating this week, not so great on the working out though. One day I had no naptime, followed by a night out of the house and another...it rained, which seems like a stupid excuse, but I decided I wanted to try doing some cycling at the rec center...and I got half way there, before turning around. The down pour had caused the streets to flood and my engine was having problem dealing with it. By the time I got home all the drive to work out was completely gone.

The days I did work out were great though. I did a combination of Jillian's Power Yoga, Walk Away the Pounds and running. My hip is still bothering me a little, so my runs have more walking breaks than I would like, but I'm trying to listen to my body; even if I want to yell back at it.

Here is my January in Numbers:
Pounds Lost: 3
Miles Walked: 59.02
Fitness Minutes: 1016

I wish that I had lost a little more, but I'm pleased with the other numbers! I hope I can keep it up in February.

Have a happy and healthy week!