Linking up with Angie! Come join in!!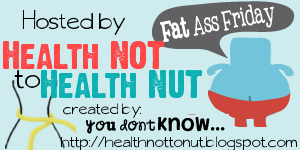 2013 Starting Weight: 165
Last Weigh In: 162
Current Weight: 161
Lost This Week: 1
Total Lost: 4
Yay! My goal is 2 pounds a week, but I've been pretty bad about staying in my calorie range during the weekends. :o/ Have to get better at that...or pump up the work outs. Probably going to pump up the work outs, since we are celebrating Chinese New Year on Sunday and then Valentine's on Thursday...so I am a little worried about next week.
We don't actually have any plans for Valentine's Day. I actually haven't even mentioned it. I'm thinking it might be nice to just stay in and plan a nice meal for after the boys go to bed. Maybe do my weigh in Thursday morning instead of Friday as an extra precaution. Probably cheating a little, but whatever.
I didn't log many miles this week. I didn't seem to have much time to get out for runs and I needed a little break from my Walk Away the Pounds. Instead I some body weight and cardio videos. I've been sore all week, but it's a great soreness. I feel my body toning and getting stronger and I kind of love it. I did a biggest loser workout, that really kicked my butt, but I may try to add that in once a week...and maybe do a day or two of 30 day shred.
I'm NOT going to stop running. Next week I plan on rolling out of bed early enough to get out. I'm also planning on kicking my husband out of bed so we can trade off who takes the pup. For some reason Kaiser and I do NOT make good work out buddies. He drags, gets distracted and trips me...and then has this weird thing where he will just plain refuse to go down certain streets. It's bizarre. I love walking with him though.
2013 miles as of last week: 59.02
Miles logged this week: 5.31
Total Miles: 64.33
Have a happy and healthy week!!